Anxi Tieguanyin Tea First Grade Aroma Oolong Tea
1.Black dragon tea,Iron Goddess of Mercy
2.Semi-fermented oolong Tikuanyin tea
Strong Aroma Tie Guan Yin Tea:
Firstly tasted mellow with strong fragrance. After several infusions, its fragrance still remain. A sweet
aftertaste quickly rise from the throat. It is mainly using traditional making process and baking again in slow fire.
The soup appears golden, tastes mellow, sweet, and fresh, smells aromatic, and has a long reputation of
"King of tea".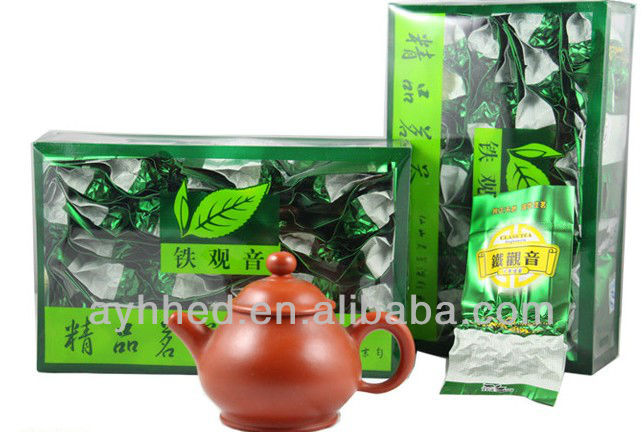 Brief Introdution of Tie quan Yin tea
Tieguanyin tea is one of China"s top ten tea production in Anxi County,Fujian province. Fujian tieguanyin tea is
semi-fermented Oolong tea.It contains more amino acids,vitamins,minerals...
Seen from appearance,like the head of the dragonfly,dry tea color,moisture.After the bubble,with the fragrance of
orchid or peanut flavor,soup color is golden yellow,manure tea,thick,bright,shiny.Drinking with the sweet,delicions,
after drinking,his mouth still sweet taste.
Making Process of Tieguanyin Tea:
It needs over 10 processes to make primary tea into made tea, including:
Withering---drying---rocking---water-removing---rolling---first baking---crunching---baking again in slow fire etc.
The made tea is in curled strips, strong, heavy, with dragonfly head, lenitive luster, green with definite red spots,
with hoar frosting on the leaves.
The soup appears golden, tastes mellow, sweet, and fresh, smells aromatic, and has a long reputation of
"King of tea", green leaves with red margin, lingering fragrance after seven infusions".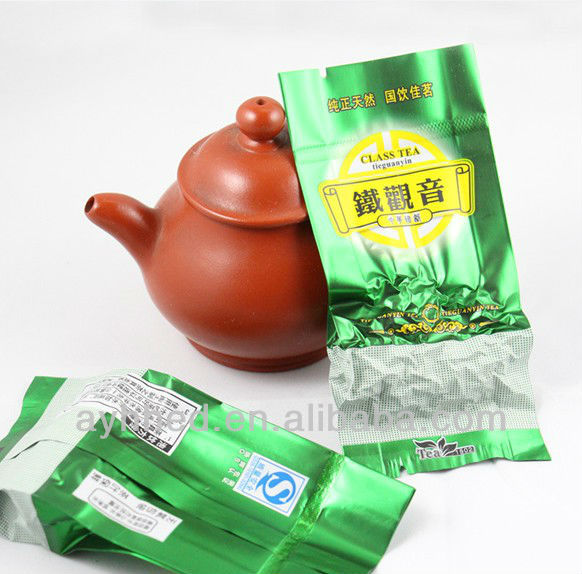 10 Health Benefit of Iron Goddess of Mercy
1. resisting senility
2. restraining atherosclerosis
3. losing weight and building bodies
4. keeping from bacteria and relieving diarrhea
5. refreshing oneself and good for thinking
6. protecting against cancer
7. preventing and curing diabetes
8. preventing decayed tooth
9. clearing away heat and purging pathogenic fire
10. sobering up oneself and resisting cigarette temptation
How to Make Tea
When brewing Tie Guan Yin tea, use water around 212ºF (100ºC) and infuse the tea for 1-3 minutes. This particular Ti Kuan Yin can typically be brewed for 7 infusions.
Tie Guan Yin tea is a slightly fermented tea, that sits between highly fermented black teas and unfermented green
and white teas. This allows it to combine the best of both worlds – the great floral taste and aroma of black teas with all the health benefits of green and white teas.

During production it is hand rolled into small, compact leaf balls. This is where it gets it"s name –Tieguanyin means "iron" in Chinese, because when you drop the tea into a pot or cup it pings just an small iron ball when it hits the
bottom.
More Information about our Tie guan Yin tea
Tea Growing Environment:
Our Anxi iron goddess originates in Xiping Town, Anxi County, Fujian Province. The production area, surrounded
by hills, has an elevation of 800 to 1500 meters. Here ridges and peaks rise one after another, with 70% forest
coverage. It is in blinding cloud and mist all the year, and is in the subtropical monsoon climate zone. In the
northwest, the Central Fujian Mountain stands upright as a protective screen to stop dry winter wind. In the
southeast, it is on the verge of Taiwan Straits.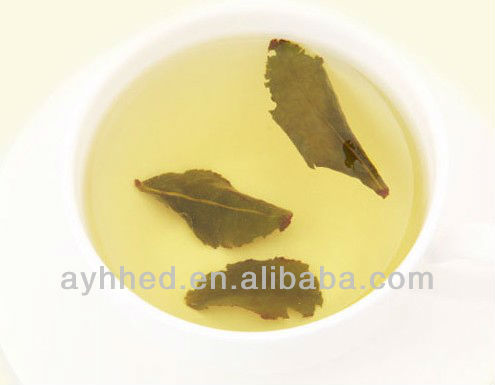 Influenced by the oceanic climate, its average temperature of the whole year is 15 to 18.5 Celsius degree, the
average frost-free period lasts 292 days, the average annual rainfall is 1700 to 1900 millimeters, and the relative humidity is about 78%. The soil here is mainly acid red soil, in great depth and of rich organic matters.
History of Anxi Tie guan Yin:
Anxi started the Iron Goddess of Mercy tea planting in the first year of Qianlong (an emperor of Qing Dynasty)
Dynasty, with a history of more than 200 years.
The Iron Goddess of Mercy tea tree harbor the following features: unfolding and stretching tree crown, branches of
plagiotropic growth, leaves of oval shape, leaf apex drooping slightly, leaf margin slightly rolling to leave back, leave
surface of wavy shape, leaves in shiny dark green, and tips of branches in slight mauve.
More Information About Our Factory:


Thanks for your kind trust on us.Any inquiry or question, feel free to contact us on line or leave a message,we will reply you within 3 hours.Hope to be your long term partner!
Changsha Ayhhed Biotechnology Co., Ltd is always here for you!